Consequences of disrupting assembly will not be good: Democracy Manch
Consequences of disrupting assembly will not be good: Democracy Manch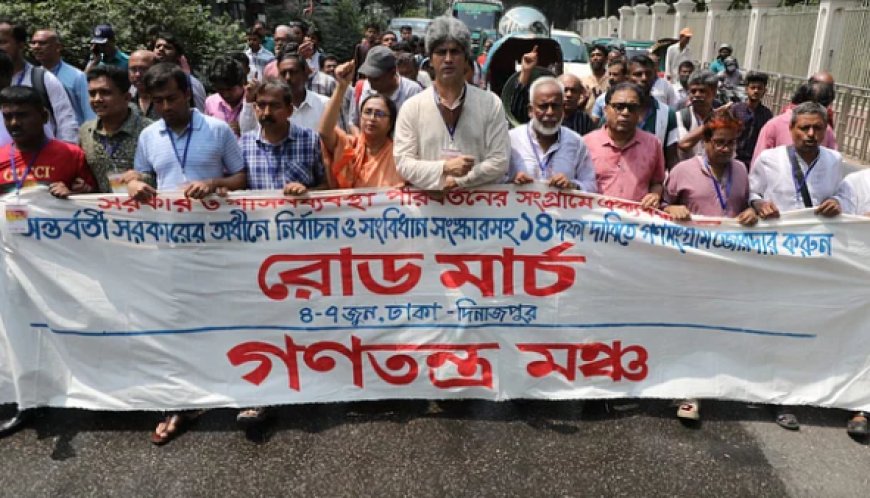 Jonaid Saki, chief coordinator of the Jana Sanhati Movement, warned that if the program of the Democracy Forum is interrupted, the consequences will not be good. He gave this warning in a short rally before the start of the road march in front of the National Press Club at around 10:30 am on Sunday.
Jonaid Saki said, "The local Awami League has announced a peace rally at the place where the Democracy Forum is supposed to be held in Tangail." The police have not yet fixed the rally venue for the democracy stage. We have said, do not come to obstruct our road march.
After starting the road march from Dhaka, the first rally will be held at Joydevpur intersection in Gazipur, said the leader of the Democracy Manch. Later we will hold rallies in Sirajganj, Bogra, Gobindganj and Rangpur of Gaibandhar. Trying to stop these gatherings will not be good.
Junaid Saki claimed that the visa policy (of the United States) was given in view of the scandalous elections that took place in 2014 and 2018. The Prime Minister admitted this in his speech yesterday (Saturday). He said, 'There is no need to go to America. Apart from America, there are many countries in the world.
Junaid Saki thinks that the US visa policy has undermined the dignity of Bangladesh. He said that the US has given this visa policy as it is thinking of holding similar elections in 2023 (as in 2014 and 2018).
What's Your Reaction?